Maureen Rousseau's Art & Bio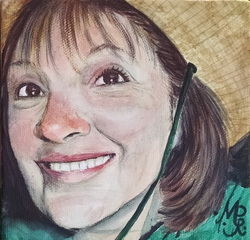 I was born with a creative spirit and have always experimented with whatever materials I had... from childhood to the present. I was surrounded, as a child, with my grandfathers paintings and always loved the beautiful colors in his work. He passed away before I was born but really influenced my love of art.
I wanted to pursue an art degree after graduation but my father told me there was no future in it and I had to choose something else. I chose to marry and raise a family, which brought me from California to Arkansas... where I eventually followed my dream and attended Henderson State University and earned a BFA/Graphic Design and a BSE/Art. This path led to commercial art opportunities. Once the kids were grown my gypsy spirit took me to many states, experiencing many cultures and lifestyles which included living aboard 'Sanctuary', our trawler and going off-the-grid for almost five years as my husband and I cruised the east coast of the US... at about 7 mph. Slowing down really helps you 'see'. I was too busy with so many distractions to do any painting until we settled down in Hot Springs Village two years ago.
I flailed around, for a year, taking workshops and trying to re-ignite that passion for painting I once had. In Sept. 2014 I took an alcohol ink class from Margaret Hoffman and that passion was ablaze. As my husband says 'she's created a monster'. I painted every day with excitement. It hasn't stopped. I've found roots. Thinking I was 'there'... I took a workshop by Linda Shearer in Chinese Brush Watercolor. Much to my surprise I was smitten again and alcohol ink had to now share my time with Chinese Brush painting. So I have two new loves and am so fulfilled in this new chapter of my life.
I have been inspired by wonderful folks in two clubs, HSV Brush Strokes and the Village Art Club. I am honored to have been chosen this year as painter-of-the-month in each club. I also joined a Facebook group '52-Week Nature Painting Challenge' run by Kitty Harvill, and am inspired weekly to paint her topic from nature, often endangered species. This outreach has taken my work to Ponte Serrada, Brazil, where a print of my Vinaceous-breasted Amazons hangs in the city hall. These endangered parrots are being re-introduced in Ponte Serrada. This painting also won an award in the Virginia P. Weaver Spring Art Show in Malvern, AR. My work has been used by the Rainforest Trust in honor of Earth Day 2015. I also have work in the Customs House Museum in Clarksville, TN in a show titled 'Nature as Art, Art as Awareness' through October 2015. Locally my work has been shown at Garvan Woodland Gardens, Woodlands Auditorium, HSV Chamber of Commerce and Coronado Community Center. I have a special place in my heart for pets and do commission portraits of beloved cats, dogs, and even goats. Such fun!
I am thoroughly enjoying this new 'retirement into art' chapter of my life. Welcome to my colorful new world. ~ 'Mo'
Contact Info:
Phone: 239-292-3946
Email:
mau_rousseau@yahoo.com
FB:
www.facebook.com/artist.maureen.rousseau
---