Jan Brigg's Art & Bio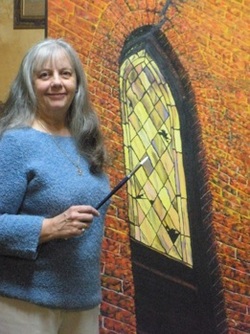 "Touching a brush or pen to a pristine surface, I am always amazed at the magic in creating a new work of art. Drawing on my personal experience as both a voyeur and a participant, I tend to romanticize life, sometimes even with a Polyanna approach. Projects often blossom and evolve of their own accord flowing from the recesses of memory. It is my desire to entice the viewer to sense the "deja vu" statements on life and time as a paradox through manipulated symbols of cycles, traits and passages. Exploring color intensity and harmony is one of my primary concerns also. Color occupies an important place, perhaps imparting subliminal messages or thought provocation."
Having drawn as long as she can remember, Jan spent many hours drawing her own paper dolls and designing their clothes. She enjoyed expressing herself through various medium trying new types when possible.
Jan was accepted into a children's art competition at age 8 in Fort Smith, AR. In a Little Rock high school she took basic art in her senior year and was hooked. She went on to Henderson State University to study art, but only completed two years. She became a layout artist for the Arkansas Democrat News also doing custom art for some clients and creating the mascot and illustrations for a special shopping column weekly. She served as the Art Director for Camp Aldersgate the summer of 1968, and for Girl Scout Camp Storey and Camp Storeywood on short terms in 2004-5. She also taught arts and crafts in Bible Schools, Boy and Girl Scouts, public schools, did freelance commercial art and taught privately. She returned to Henderson State University to graduate with a BFA in December 1999.
Jan works in various mediums, always ready to try the new. She also does com-missioned work. Jan was an Art on the Corner artist, co-chaired in 2006, was juried into many exhibits garnering some awards, and her work hangs in several states.
Inspiration has been from her talented teachers such as Gary Simmons, Brince Camp, Edwin Martin, Long Hua Xu, Dr. Jon Linn, Nancy Dunaway, Richard Stephens. Joe Coulter taught me to" be my own worst critic".
Jan is a member & exhibitor of Hot Springs Fine Art Center, Willoughby House Artist
Café, Three Rivers Art Guild in Glenwood, Artists Workshop Gallery, and Christopher's Salon & Bridal.
I'm in another world when I'm creating____
"Don't hide it under a bushel"__Art is passionate talent!
To send an email to Jan, click
here.
---