Larry Cloyes's Art & Bio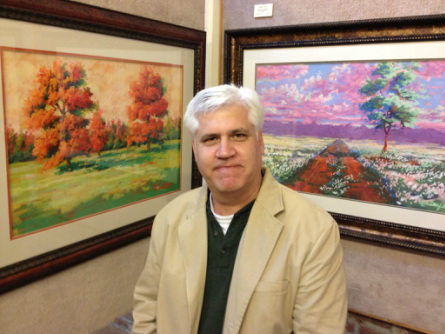 Larry Cloyes is an expressive, inspirational artist using composition and color to create loose and uplifting art. He was born in rural Arkansas and heavily leans on his boyhood experiences. As a boy he loved three things: drawing, exploring, and daydreaming. Today, his scenes are open and bright, and often commanded by a single object such as a towering tree. His composition symbolizes freedom and possibilities of an idealistic individual or a small group of dreamers.
Larry served in the Marines during Desert Storm. After the Marines, he attended Arkansas State University where he reconnected with art. After college, he spent the years exploring his craft before finding his artistic voice. He takes solace in the uniqueness of his work, which is loose and free. Currently, he works in his small hometown of Bald Knob with an after school program that promotes art for the youth.
Larry works with most mediums but currently he is focusing on pastel and acrylics. Larry's primary objective is producing art, which communicates the beauty of thoughtful solitude and the romance of openness.
Contact me at
chasingcolor@gmail.com
or 501-827-2121
---