Rachel Elson-Canfields Art & Bio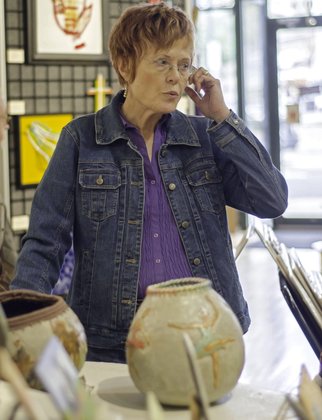 Rachel Elson-Canfield:
Following her retirement from 25 years in Speech Pathology in 2011, Rachel was able to concentrate on her interest in carving.
After carving a moose antler in 2007, she discovered gourd carving. Rachel is self-trained using books and videos.
The majority of Rachel's gourd creations are theme based [ i.e. the Roman Colosseum, southwestern/Native American, military, rodeo, fairies, birds, flowers, religious, dragons, horse racing, dance, pets, zoo animals etc] with dremel carving and undercutting. Some gourds are engraved, done with a leather look, or just painted using a variety of different techniques. Rachel uses acrylic paints, wood stains, alcohol inks, heat set inks and some other specialty paints. Coiling, inlay, and insets are sometimes used for embellishment. She prefers minimal embellishments so the natural beauty of the gourd will show. Rachel is often exploring new materials and techniques to enhance her work when they fit with her style.
Every year or so Rachel does a multi gourd piece such as a swan, an owl, a chariot and most recently a lion and a dragon. She has done 6 commission pieces given themes and/or pictures . For variety Rachel does pieces such as theater masks, baskets, gourd lamps, gourd plates that sit on stands or hang, and whole gourds. She has displayed in c Cedar Rapids, IA public library, and church parlor. She has not done much marketing but participated in a home town holiday craft show.Most of her work has been sold by word of mouth .
Rachel's goal is to showcase realism in her illustrations without destroying the natural beauty of the gourd itself. Her gourd creations are intended for show casing as table centerpieces or artistic displays.
Rachel is a past member of the Iowa Gourd Society and a current member in the American Gourd Society.


To send an email to Rachel, click here.


---
​