Ken Haley's Art & Bio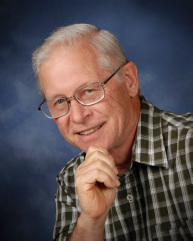 Ken and his wife, Cathy, moved to Hot Springs Village from Eugene, Oregon in March 2015. Ken retired in 2013 from the position of Spanish interpreter and translator with the school system in Oregon, while Cathy retired in 2015 from the University of Oregon. Both have pursued their creative interests in retirement, Ken with photography, Cathy in theater (she starred in the 2015 Village Players production of Young Frankenstein).
For most of his life, Ken considered his creative spirit tied to poetry and fiction writing, but after he and Cathy moved to Oregon in 2005, he fell under the spell of nature photography. For several years he honed his camera skills in the wildlife-rich wetlands around Eugene, specializing in capturing images of birds in action. In 2009 he had a month-long exhibit of bird photos at the Emerald Art Center in Springfield, Oregon, and later won first prize in the University of Oregon Outdoor Program's Photography Contest.
Three years ago, Ken experimented with a macro approach to nature photography, which he developed into a unique style he describes as nature abstracts. He photographs natural materials, including agate stones, flower petals, bird feathers, insect wings in conjunction with water drops, ice chips, and candle flames. He then develops the images into colorful and light-infused works of abstract nature art.
Ken's work is viewable at the Artists' Workshop Gallery and his online portfolio at
kennethhaley.zenfolio.com
. Ken may be contacted by email at
comet_tale@yahoo.com
.
---