Carol Hannon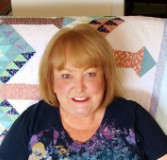 Carol is an artist who has painted with watercolor, acrylic, pastel and many diverse mediums, using artistic license to achieve representations of nature, people and critters that we encounter everyday. Her work as an artist has been displayed in several galleries.
Retired and living on beautiful Lake Catherine with her husband, is all the inspiration she needs.
Hot Springs Arkansas is a wonderland to live in and paint. And a member of Traditional Art Guild.
Contact me at;
xmascarol@people.com
---