Joy Clark Hill's Art & Bio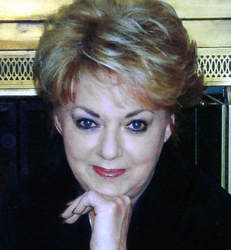 ​Joy Clark Hill and her husband moved from Texas to Hot Springs Village after retirement in 2007. Her passions are art, music and gardening. She began both art and music at a very young age and served as Junior High and High School pianist as well as the chorale pianist. Growing up in a very faith-oriented family she also served as the Church pianist for many years. Licensed in both law and real estate, she studied at Lamar University of Texas. She also studied at Texas A & M University to become a Texas Master Gardener, further satisfying her passion for plants and design.
As a young artist, she was commissioned to design and paint floral designs for the renowned Peter Popavitch Clothing Line. This was when hand painted clothing was all the rage. Her art on his clothing line was shown and sold in twelve locations throughout Texas and Louisiana and was featured in several style shows.

Joy has always shown an intense interest in the field of art and jumped at the chance to paint every spare moment possible. Since retirement, she has become completely immersed in exploring new and different art styles. She spends a great deal of time either studying or painting in her studio. Joy delights in many forms of art, but is particularly fond of acrylics, abstract and contemporary collage and mixed media. Her paintings are distinguished by deliberate strokes of very vibrant and energetic colors, often incorporating hand painted papers, polymer clay medallions and rocks, etc. Texture is primary and quite often abstraction and realism are juxtaposed in the same painting. While Joy often paints intuitively, she also enjoys telling the story behind her paintings and places these thoughts on the back side of the canvas, inviting the viewer to participate in the creative interpretation.

With surround sound playing easy listening music, she is very happy in her studio with paint brush in hand and feels particularly satisfied when someone enjoys her work.
​
Her future plans include entering two large abstract paintings in the Brushstrokes Woodlands Exhibition 2018.

---