Pat Eugenia Langewis' Art & Bio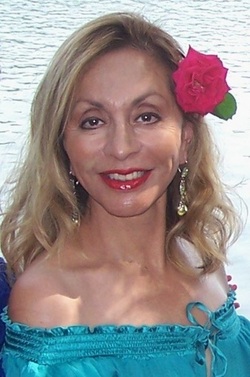 Pat Langewis was born and raised in California. She attended Cal State in Northridge and majored in Fine Art with a minor in Theater. Her love for art and drama are seen in many of her works.
She married and traveled the world,with fifteen moves in thirty three years. Her moves internationally include England, Scotland, Dubai and the Netherlands. Domestically she has been fortunate to live in California, Texas, Louisiana, Arkansas and her beloved Hawaii where she owns a vacation get-a-way in Kona.
Pat is a watercolor, acrylic, and collage artist. In June, 2009, Pat won the Bronze Award for her watercolor "Koi", a major award presented by the Southern Watercolor Society. She also won the Bronze for her entry "Ghost Train" in September at the juried Diamond Exhibit in Hot Springs. In November she had her painting "Remembering Guadalupe" selected to be shown in Los Angeles and she had her collage "Creation" choosen to be on three billboards in Little Rock for the Fellowship Bible Church Art and Music Festival at Christmas.
In 2008, Pat won first place for her acrylic painting "Van Goat" at the Little Rock Zoo's juried art show. Pat has her paintings hanging nationally and internationally and has been accepted in many juried shows and won recognition.
You can see Pat's art at the Fine Art Center, the Artists Workshop Gallery and Christopher's Hair salon in Hot Springs. She also has paintings at the El Acapulco and the Italian House and Grill restaurants in Hot Springs Village. She is a member of WASH in Houston, TX, MSW in Little Rock, AR , Southern Watercolor Society and Brushstrokes in HSV.
To send an email to Pat, click
here.
To view her personal art website, click
here.
---