Nina Louton's Art & Bio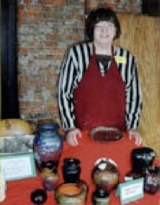 A graduate of Henderson State University in 1971, Nina Louton later returned to HSU to complete a Master's Degree. After twenty-nine years teaching, retirement allowed time for concentration on art.
Louton is a member of AEA/NEA (retired), the Arkansas Arts Center, and the Fine Arts Center of Hot Springs, the Traditional Art Guild, as well as the Artists' Workshop Gallery. She has exhibited at Hot Springs' annual "Art on the Corner," at the Fine Arts Center, Sink's, the Legacy, art-exchange.com, and the Artists Workshop Gallery.
As visual arts chair of "Art on the Corner," the first full weekend in October festival, she helps provide a "taste" of all arts possible for all ages. Louton is on the Arkansas Arts Council's Arts in Ed roster. She now teaches art workshops serving various ages in pottery, free form sculpture, design, watercolor, mural, acrylics, oils, collage, and pastels at her studio, 114 Mountain View, Hot Springs, and occasionally does repro slides.
Louton recently won first place in the "Win, Place and Show Art," a statewide art contest celebrating Oaklawn Race Track's centennial, exhibited at the Legacy with the top forty women artist in Arkansas, had work accepted twice to tour with Arkansas Heritage Department's "Small Works on Paper," and has had several one woman and featured artist exhibits.
To send an email to Nina, click
here.
---