Kenney Maggard's Art and Bio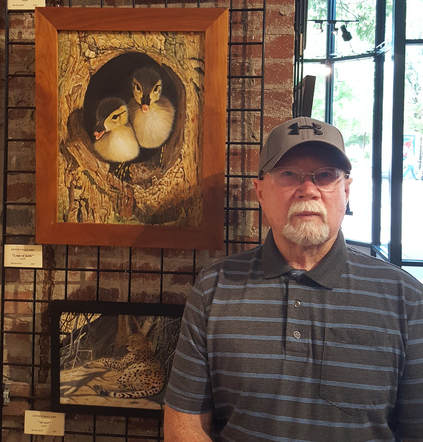 Kenney Maggard was born in the rural California town of Reedley in the Sierra Nevada foothills. The abundance of wildlife and scenic beauty instilled a deep appreciation for the wonders of the natural world. Kenney liked to capture wildlife scenes on photograph then draw ultra-realistic depictions from these images. He started drawing at an early age, developing a skill that is apparent in the detailed wildlife paintings Kenney produces today.

His ability in other art forms such as sculpture and woodworking was developed in high school where he studied metal sculpture, hammering pieces of two-dimensional sheet metal into realistic wildlife forms. He also did wall scenes such as ducks in flight.

After high school in 1964, he was drafted into the military. Instead, he volunteered for the Army Airborne Division, following uncles and his father before him. He started training at fort Ord California, then went to fort Benning Georgia for rigorous airborne training. After jump school, he went to Vietnam where he spent a grueling 13 months as a combat infantryman. After this initial deployment, he was assigned to fort Bragg North Carolina to the 82nd Airborne division, an elite division of the U.S. Army. In 1968, he was again sent to Vietnam for the "Tet Offensive." Although a very trying time and after many almost fatal experiences, he fortunately came back home in one piece.

Twenty years later he finally picked up his paint brushes again. He took art lessons in college and studied at Langdon art studios in California. Kenney worked for a utility company in California for 32 years. After retirement, he took up woodturning and woodcarving. He became so engrossed in it that he became a professional woodturner. He continued with that form of art for 20 years and, to this day, turns wood into functional pieces of art when not painting.
​
The depth of his varied experiences gave him an appreciation for life's simple pleasures and an eye for natural beauty. He says this is what he hopes to capture in his art. He tries to paint every day and is equally adept with acrylics, oils and pastels. 


---