Jean Pennucci's Art & Bio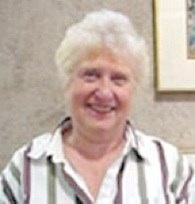 Jean Pennucci has had a lifelong interest in arts and crafts since her grandfather, a sculptor, sparked her interest in modeling clay. She grew up near Boston MA and majored in Art Education at Skidmore College in N.Y. Subsequently, she studied and practiced occupational therapy. Crafts were one of the modalities used for rehabilitation.
Jean now is retired, lives in Little Rock, AR, and devotes more time to the arts. She primarily focuses on painting with water media but also has worked in pottery, sculpture, and other craft media. Most of her work reflects a variety in technique applied to representative form.
Jean is a signature member of the Midsouthern Watercolorists Inc. as well as a member of the Arkansas League of Artists and the Artists Workshop Gallery in Hot Springs. Her work has been shown in local and regional exhibits and can be viewed regularly at the Artists Workshop Gallery.
To send an email to Jean, click
here.
---