Michael Preble's Art & Bio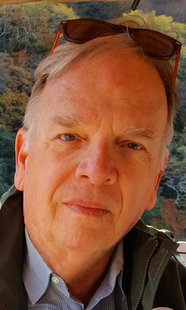 Michael Preble has been an active photographer since the late 1980s, first publishing his Caribbean photographs with International Voyager Media, Miami. He has exhibited nationally and regionally, including art festivals, galleries and museums, and is included in numerous public and private collections in Arkansas, Louisiana, Missouri, Georgia, Virginia, Kentucky, Florida, South Carolina, North Carolina and Pennsylvania. His photographic travels have taken him from Maine through the Atlantic states and the Deep South, as well as the Caribbean, Mexico, India, Scotland, Italy, France and Spain and most recently, Thailand and Japan.
Michael is also a museum professional, retired as Curator and Program Director at the Peninsula Fine Arts Center in Newport News, Virginia, a position he held from 2004-2013. Prior to his work in Virginia, Michael was Deputy Director for Programming at the Arkansas Arts Center in Little Rock. He has held senior curatorial positions at the Arkansas Arts Center, Portland Museum of Art in Maine and the Bass Museum of Art, Miami Beach, among others. He also served as guest curator for the William Baziotes retrospective exhibition at the Peggy Guggenheim Collection in Venice, Italy, and is currently Editor of the William Baziotes Catalogue Raisonné. In 2015, he was appointed to the Arts Advisory Committee of the City of Hot Springs. He currently serves as Curator at the Artists' Workshop Gallery.
​Born in Tampa, Florida, Michael grew up in New Orleans, Louisiana, earned a BA from Cornell University, and an MA from California State University, Dominguez Hills. A resident of Hot Springs, Arkansas, Michael is married to Anne Guthrie, former historic and city planner. They live with their two vizslas Sofie and Jake.
Artist's Statement
In summary, I create original fine arts photographs, signed and numbered in limited editions, presented in archival materials; I do not produce them in a variety of sizes.
I have an eye for the unexpected and the weird; pattern and serial imagery; asymmetry and heightened color.
I am continually inspired by the pastel drawings of Edgar Degas, the watercolors of John Singer Sargent, the photographs of Henri Cartier-Bresson and Robert Frank, and the 19th century Japanese prints of Hiroshige, Hokusai and Kunisada, among others.
For more information, please contact Michael at 501-520-7570 or email
mpreble@verizon.net
. You can also visit the website at
www.mpreble.com
or Facebook.
.
---