Pam Reeder's Art & Bio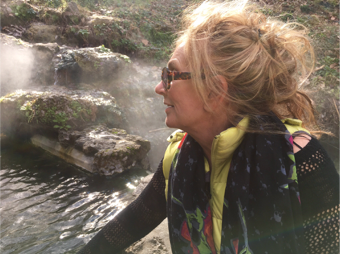 Pamala Reeder likes to "get in the paint" and as an artist it is a thrilling journey for her. Pam's art is her passion.
She has resided in the Hot Springs area for a year and also maintains a home in Ruidoso, NM. Pam grew up in West Texas and is a graduate of Texas Tech University. She taught and coached volleyball in Wichita Falls, Burkburnett, Snyder, and Lamesa. Pam has a son Kurt in Rodgers, AR and a daughter Shayne in Lubbock, TX, each have two children.
After she retired from teaching, she showed cutting horses and began her painting journey. Ann Templeton, her gifted mentor and friend, inspired her to paint with freedom and abstract ideals. Carolyn Lindsay and Shirley de Mayo, other outstanding artists in New Mexico, encouraged her skills and confidence to express herself freely with dynamic colors. Bruce Defour, New Mexico art teacher at Eastern New Mexico University, continued influencing her stylistic development.
Pam's paintings are coloristic-abstract expressionistic. Her bold strong colors are acrylic and mixed medium. Her favorite subjects tend to be florals, women, and pleine air.
Pam was a partner in the Local Artist's Studio in Ruidoso, NM for two years and then became proprietor of her own art studio, Art Studio-Pam for approximately two years.
Currently she is a member of Brush Strokes in Hot Springs Village, AR and shows in several venues in the Village. Pam is also a member of Artist Workshop Gallery and currently shows her work there in Hot Springs, AR.
Contact her at
pamreeder11@gmail.com
or 1-806-470-1125
---