Pati Trippel's Art & Bio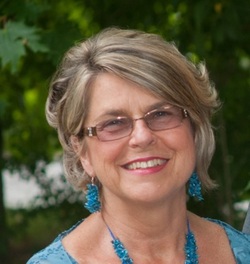 Pati Trippel and her husband, Alan, moved to Hot Springs Village via Connecticut, Ohio, Indiana, New York and California almost three years ago. Having double majored in Art and Elementary Education at Purdue University, her multi-faceted career has taken her to IBM as a systems engineer, owner of three Laundromats a hand-scrub distributorship, legal secretary, teacher of after school art classes, faux painter and muralist, and a finally as a ten year restaurateur. She was recently ordained as an interfaith minister from the One Spirit Interfaith Seminary and is a Shalem certified spiritual director and companion. Through all these varied careers and the raising of her three sons, Rob, Dan and Tom, creating works of art was a constant in her life. Though Pati is accomplished in watercolors, pastels, pencil, acrylics and charcoal, she has recently focused on her paintings using acrylic dyed tissue collage as an abstract realist. In her work, she seeks to capture the spiritual essence of her subject and allow her viewer to participate in the creative process of interpreting her vivid paintings. A lover of nature, her landscapes, florals and nature studies are crisp, clean, fresh and vibrant with color. Snake skins, grasses, pine needles, wild flowers, leaves and butterfly wings, are often incorporated into her work as she weaves reality and fantasy through her paintings. Pati's unique Citrus Peel, Fabric and Tissue jewelry are also now on display at Artist Workshop Gallery. When not painting or creating jewelry, Pati volunteers her time with the Ouachita Children's Center, where she serves on the Board of Directors,creates murals for children, sews, crochets, is a spiritual director, performs weddings and memorial services and speaks on spirituality and interfaith matters.
Pati is a member of Artists Workshop Gallery, the Hot Springs Village Brush Strokes art club, and the Hot Springs Fine Arts Center. Pati's work is currently on display at Artists Workshop Gallery and the Butler Gallery in Little Rock, Arkansas. For more information and examples of her work, visit
http://www.patitrippel.com
. Pati may be reached at 501-209-9079 or emailed at
ptrippel@hotmail.com
.
---