Joyce Weaver's Art & Bio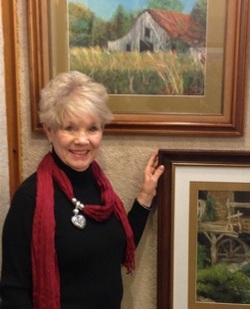 Joyce was born and raised in the midwest and attended college there. As a child she used to draw and always enjoyed art classes throughout school. But it wasn't until she retired from administrative business in Wisconsin and moved to Arkansas that she pursued her interest in a more serious manner. She has studied portrait and drawing classes with Ovita Goolsby, and attended workshops of other nationally recognized artists, as well as local artists. People and still life are her favorite subject matter in a variety of media. She is also a calligrapher. Being an active member of Brush Strokes fine art club in Hot Springs Village and the Arkansas Pastel Society has given her opportunities to exhibit her work in various venues. Joyce shows her award-winning work at Artists' Workshop Gallery in Hot Springs.
"Every child is an artist. The problem is how to remain an artist once he grows up."
- Pablo Picasso
To contact Joyce, email her at
joyjim39@sbcglobal.net
or call her at 501-915-0109.
---