Gary Weeter's Art & Bio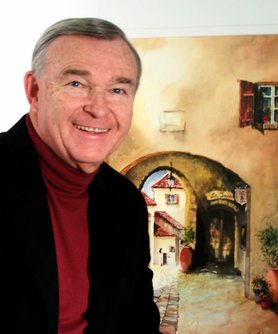 Before earning a reputation for his masterful watercolors,
Gary Weeter
graduated from the University of Oklahoma with a Bachelor of Architecture degree. During his architectural practice in Dallas he developed an avocation for watercolor painting.
Now retired, he and his wife Elaine live in Hot Springs Village, Arkansas, where he has devoted time, energy and passion to the challenging medium of watercolor. They now enjoy traveling around the world, where Weeter is seeks out interesting street scenes or dilapidated buildings to photograph for a future painting. "It is probably because of my architectural background that much of my work portrays the built environment rather than the natural."
Weeter's honors include achieving Signature Member status of the Southwestern Watercolor Society as well as of the Mid-Southern Watercolorists. His most recent award was the Dennette and James Woods Award in the 2017 Mid-Southern Watercolorists 47th Annual Juried Exhibition.
You may contact Gary through his website
http://www.gweeterwatercolors.com/

---